Payment Options
We accept cash, Visa, Mastercard, American Express, Discover, Apple Pay, and Google Pay. For your safety, Brookside Veterinary Hospital does not keep credit card information on file. Your card will need to be present at the time of checkout.

We also accept CareCredit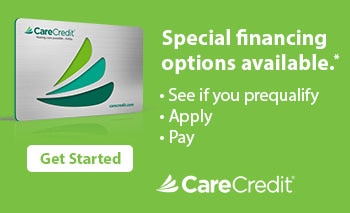 New Client Deposits
To retain a same day spot on our schedule, the receptionist will take a deposit of the cost of the exam from all new clients.

Deposit will be applied directly to the patients invoice on the day of their appointment.
Deposit is nonrefundable if cancelled less than 48 hours prior to the scheduled appointment.  
Surgery Deposits
For surgeries to be scheduled there must be an estimate associated with that procedure.
Spays/neuters: Deposit of $200 due at time of scheduling.
Dentals/More extensive surgeries: Deposit for half of the high end of the estimate due OR $500 minimum due at time of scheduling.

Deposit will be applied to balance on day or procedure.
Deposit of $500 is nonrefundable if cancelled less than 48 hours prior.

Rescheduling fee of $100 if rescheduled less than 48 hours before procedure.

Rescheduling fee is not a credit toward your balance.
Procedure can be rescheduled once per patient.
 If client cancels twice, they will not be able to have procedure done at our facility.

Remainder of balance due at time of pick up.
Emergency cancellations must be approved by management.
Should Brookside have to reschedule procedure due to weather conditions, staffing shortages or equipment issues we will not hold you financially responsible. You can choose to keep your deposit on account or get a full refund.